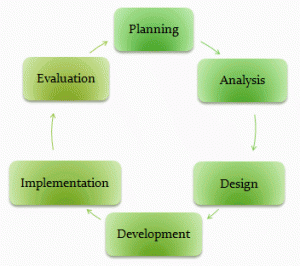 The ADDIE model of instructional design is the foundation of our core service offering. After a thorough planning session to learn about your organization's needs and goals, we will provide a detailed Needs/Learner Analysis, Design, Development, Implementation, and Evaluation of your training project. Because we include the Planning process first, we refer to our work model as "PADDIE."
Our staff of independent contractors can serve as an on-site extension to your internal curriculum design and training department or we can complete the work remotely. If working remotely, we will visit your site on an as-needed basis for job/task analysis, subject matter expert (SME) interviews, and training reviews with the project team.
We offer the following "blended" learning solutions to meet your training and performance improvement needs, regardless of the industry:
e-Learning (computer and/or Web-based) training
Instructor-led training
Job aids and other quick reference material
Self-paced workbooks
Storyboarding (conversion of paper-based training material to e-learning format)
Tests (to assess the learner's mastery of the learning objectives)
Evaluations (to measure effectiveness of training, behavior changes at the job and if training helped the organization meet its goals)
We also provide courses translated in several different languages to accommodate your diversified employee and customer base.